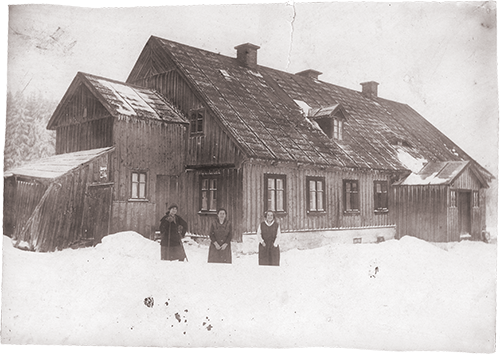 Chalet Jizerka No. 11 is positioned at 900 meters above sea level altitude. The mountain cottage has retained its old character. You are not going to find the modern technologies easing our lives such as underfloor heating, air conditioning and you can also forget getting hot rolls "into bed" (if you don't bake them yourself). Life in the mountains has never been easy. The house is heated by old stoves powered by wood or coal (which is provided). You can cook the best mountain food in the kitchen (from ingredients that you bring with you), you can add plentiful herbs found locally on the surrounding meadows (avoiding to pick the protected plants). There is nothing more magical than, after being tired from the whole day sport activity, you can sit in the indoor warmth heated by stove and enjoy a drop of something stronger.
If you would miss the civilization at the Jizerka settlement, there are nine restaurants, rental of bicycles, skis, snowshoes, sport hall, sauna…
Chalet Jizerka No. 11 currently has one four-beds apartment (2 rooms with two beds), one double room and three rooms in the attic. It includes a furnished shared kitchen and a lounge with fireplace. The toilet and shower are shared. Around the house is an outdoor fireplace. Parking is available nearby the chalet.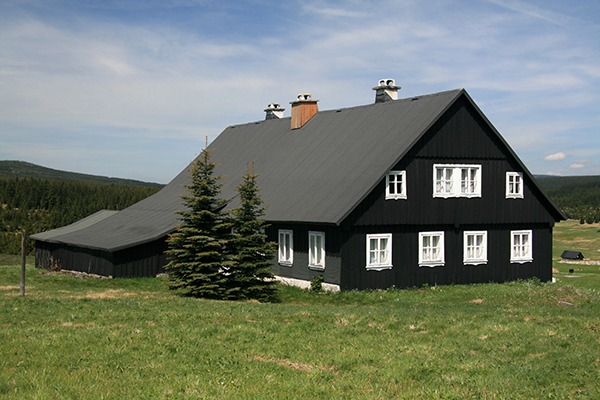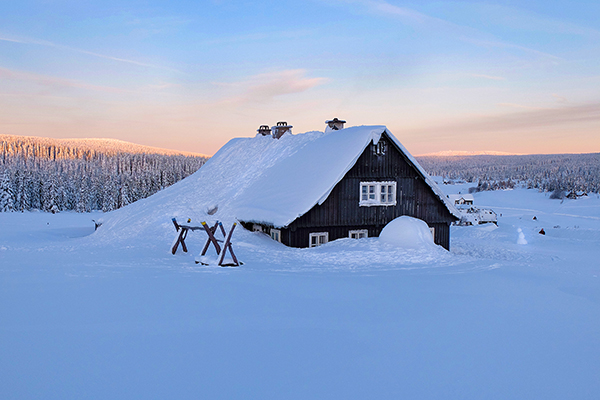 Activities and Accommodation Conditions in Summer
There are two bike trails passing through the Jizerka settlement; in addition there are many well-marked trails for hikers with attractive destination (mountains Bukovec, Smrk and Jizera, dam Souš, Polish Orle etc.). Jizerka has a Jizera Mountains museum. At the confluence of the Jizerka and Jizera streams, there is an open border crossing to Poland, which offers a number of routes on the Polish side of the Jizera mountains (with the highest mountain of the Jizera Mountains – Vysoka Kopa). Jizerka is also a good starting point for hikes in the western part of Giant Mountains, also known as Krkonoše Mountains.
Summer season prices
(from 1st April to 31th October)
with linen – 10 / 12 EUR/night *
(prices are per person)
Children under 6 are free
Reservation fee is 50 %
Activities and Accommodation Conditions in Winter
The Jizerka Settlement is the cross-country skiing paradise with many well-maintained trails at the Jizera Trail. One of them can be found directly behind the house. Nearby the Jizerka Settlement is the cross-boarder bridge to Poland, which after crossing the frontier offers excellent conditions for recreational and competitive cross-country skiing.
For lovers of downhill skiing, there are numerous ski slopes in the nearby resorts at Harrachov, Cerna Ricka, Rejdice and Paseky nad Jizerou.
Winter season prices
(from 1st November to 31st March)
with linen – 12 / 14 EUR/night *
(prices are per person)
Children under 6 are free
Reservation fee is 50 %